JPS – Jasdev Public School
Jasdev Public School (JPS) was established in 2001 to provide children ample opportunity to grow and progress in planned, systematic and organized way. The school has classes from Preparatory till matriculation. It is a school with a great environment and is affiliated to C.B.S.E. New Delhi.
A school is expected to fulfill many varied needs. And the ultimate challenge is that everything must be done well. JPS is committed to addressing these needs with an immense expertise, a modern infrastructure and a pollution-free environment. At Jasdev Public School there is a simple philosophy, to transform potentiality into reality. Because we understand our greatest responsibility is to the child.
Student Life: Since every child is a precious individual with unique aptitudes, it is the aim of the educational institution to ensure that each one reaches its full potential. Recognition, enhancement and accomplishment of these innate abilities are given the serious attention they deserve. To achieve this, teachers and students spend much more time together than they normally would in a day school. Observation, interaction and responses are the chief means to closer understanding. This invigorating environment prepares the ground for comprehending the full significance of value systems, cultural heritage and brotherhood.
Principal's Message: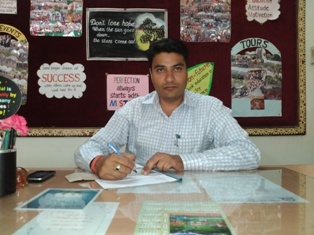 Life is a journey of choice which will lead to success and happiness or failures and frustration. Each moment takes a good or a bad turn which solely depends on the choices you make. Destiny does not come by chance but by conscious and determined choices as in Robert Frost word`s "Two roads diverged in the woods, and I took the one less travelled by; and that made all the difference".
There`s no substitute for hard work. Nothing comes easy in life and there are no shortcuts to success. If one wants to achieve success, one should accept tough challenges and sweat- it- out. If you are already doing so, then don`t be disheartened as hard work will never go waste.
"Accept responsibility for your life. Know that it is YOU who will get where you want to go, no one else".
Wishing all a successful journey, happy and contented.
Rohit Garg